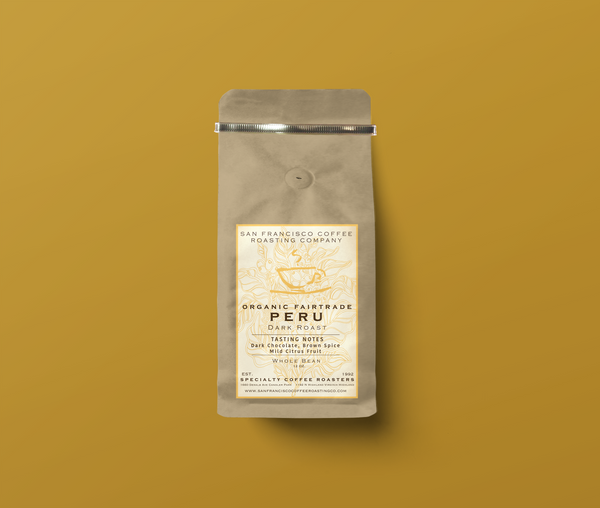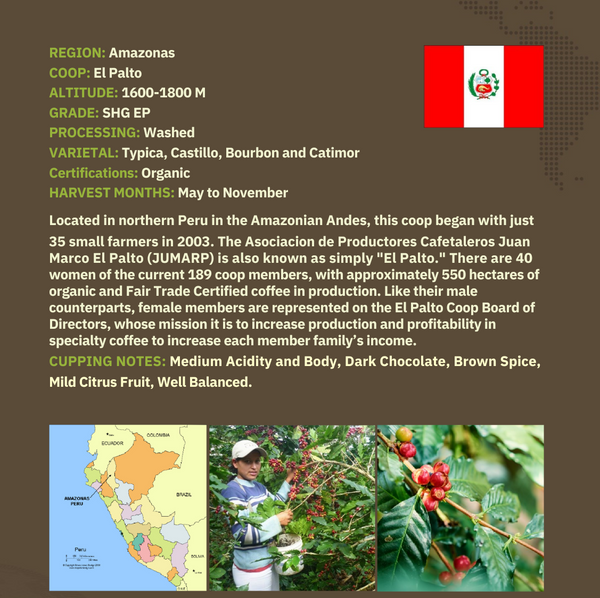 Experience the captivating allure of Peruvian beans!
Sip on a cup that's smooth and rounded, leaving an impression on your senses that says, "Oh, hey there, coffee lover!" Indulge in harmonious flavors of chocolate, beautifully complemented by subtle hints of ripe fruit, taking you on a taste adventure to the enchanting highlands of Peru. With medium acidity, this coffee is for those with a discerning palate, appreciating the finer nuances. Elevate your coffee rituals and embark on a flavor journey with our extraordinary Peru beans.
This exceptional brew is triple certified: organically grown, shade grown, and fair-traded, giving you guilt-free indulgence. Immerse yourself in its well-rounded, balanced body and savor the roasty notes of chocolate. Our dark roast, with its slightly dry yet soft profile, bestows a luxurious mouthfeel that's like a sip of rich cabernet.

Sensory Notes

Full bodied

Balanced acidity

Cabernet-like mouthfeel

Dark chocolate

Ripe cherry

Brown spices

Suggested for drip and pour over
SF Coffee gift cards
Looking for the perfect gift for the coffee lovers in your life? This is it!

Give the gift of a San Francisco Coffee Gift Card. With all the delicious coffee blends and organic beans, pastries, merch and more, your friends and family are sure to find what they love at San Francisco Coffee Roasting Co.
Our Commitment
Located in the heart of Atlanta, our coffeehouses are renowned for our commitment to quality and excellence. Whether you're in Virginia-Highland, Candler Park, or on campus at Georgia Tech our expertly curated selection of original coffee blends and organic single-origin beans, will exceed your expectations.
Come join us for a cup of coffee or a handcrafted espresso drink!